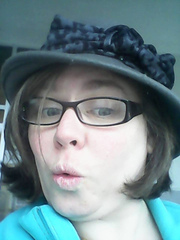 Yup that's me! My name is Rainah (pronounced in 2 syllables [rain'ah])
I am a past crocheter, a medium loom knitter, and an avid needle knitter now. I often have an assistant who's sitting beside me when I am knitting or blogging by the name of "buddy" hes 3.5 and 1 out of the 4 loves of my life. I started crocheting in my early 20's when my grandmother got sick and we had to put her in a home I would often spend afternoons with her crocheting. (Usually I was crocheting she was watching.) I was on and off quite a bit taking a hiatus here and there until I got engaged and married in 2009. I wanted to learn more crocheting so my husband bought me "the happy hooker" I never really got outside of making scarves but I wanted to make much more then scarves.
After the birth of "buddy" in late 2010. I suffered through a bout of post par tum depression. My mother and I were walking through Michael's one day and we saw the knifty knitter looms. After my mother returned from visiting me to California  my mother-in-law and I sat at her dining room table figuring the "loom" thing out. We got it! Didn't know at the time we can go on you tube to figure it out. Finally the following summer wanting to know more I searched you tube and that's where I blossomed figuring out stitches and cool new things to try.
Last fall, I was curious, a little burned out from the loom thing so I thought I would try needle knitting. My best friend has taught herself so I took a dive I went on you tube again and watched over and over again how to in thee basics of knitting and one day it finally clicked. So I am an avid needle  knitter now. I learn so much off of new stitch a day.com and everyone else.
When I am not knitting you can sometimes find me at the Red Brick Bakery in Red Lion, PA – Nerding out to Knitting Podcasts, or shopping I like to do alot of it. 🙂